You can easily install our phone application to have access to our calculators and converters whereever you are! Tap the button below to preview it.
Using CalcuLife.com app is so awesome because it:
works perfectly even offline;
extensively handy;
doesn't consume much internet traffic;
doesn't need a browser;
makes you feel nice and smart.
What if there's no button? Or nothing happens on click?
Then you may install the app manually in just two steps:
1. Tap the Menu button of your browser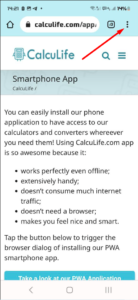 2. Tap the Install App option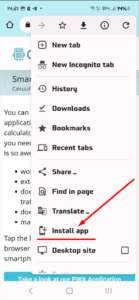 If that isn't help, then your device might not support the PWA apps and there's no way to install it just yet.
Screenshots of our app
Basically the app has exactly the same functionality as the web version, except that the app can work offline. But here are some screenshots for you